Samsung phones have gained immense popularity due to their cutting-edge technology and innovative features. To protect your valuable device, it is essential to have a warranty that covers repairs and replacements in case of any unforeseen issues. While the standard warranty provided by Samsung offers a certain level of coverage, you may be wondering if it is possible to extend the warranty to enjoy an extended period of protection. In this guide, we will walk you through the steps involved in extending the warranty on your Samsung phone.
Understand the Standard Warranty
Before exploring options for extending your warranty, it is crucial to familiarize yourself with the terms and conditions of the standard warranty provided by Samsung. Typically, Samsung offers a limited warranty that covers defects in materials and workmanship for a specific period, usually one year from the date of purchase. This warranty may vary depending on your location and the specific Samsung phone model you own.
Research Extended Warranty Options
Once you are aware of the standard warranty, you can start researching extended warranty options available for your Samsung phone. Samsung itself offers extended warranty plans, and there may also be third-party providers offering similar coverage. Take the time to compare different plans, considering factors such as coverage duration, cost, deductibles, and the range of issues covered.
Samsung's Extended Warranty Options
Samsung offers its own extended warranty plans, which can be purchased directly from the company. These plans are often referred to as Samsung Protection Plus (SPP) or Samsung Care+. Visit the official Samsung website or contact their customer support to explore the available options for your specific Samsung phone model. Gather detailed information about the coverage provided, pricing, and any additional benefits offered by Samsung's extended warranty plans.
Third-Party Extended Warranty Providers
Apart from Samsung, there are third-party providers that offer extended warranty plans for Samsung phones. These providers often have their own unique coverage options, pricing structures, and additional benefits. Research reputable third-party providers and compare their offerings with Samsung's plans. It is essential to read customer reviews and evaluate the reliability of the provider before making a decision.
Purchase Samsung's Extended Warranty
If you decide to go with Samsung's extended warranty plan, you can purchase it directly from Samsung's official website or through authorized retailers. Ensure that you have the necessary details about your Samsung phone, such as the model name, serial number, and purchase date, as these may be required during the purchasing process. Carefully review the terms and conditions before finalizing your purchase.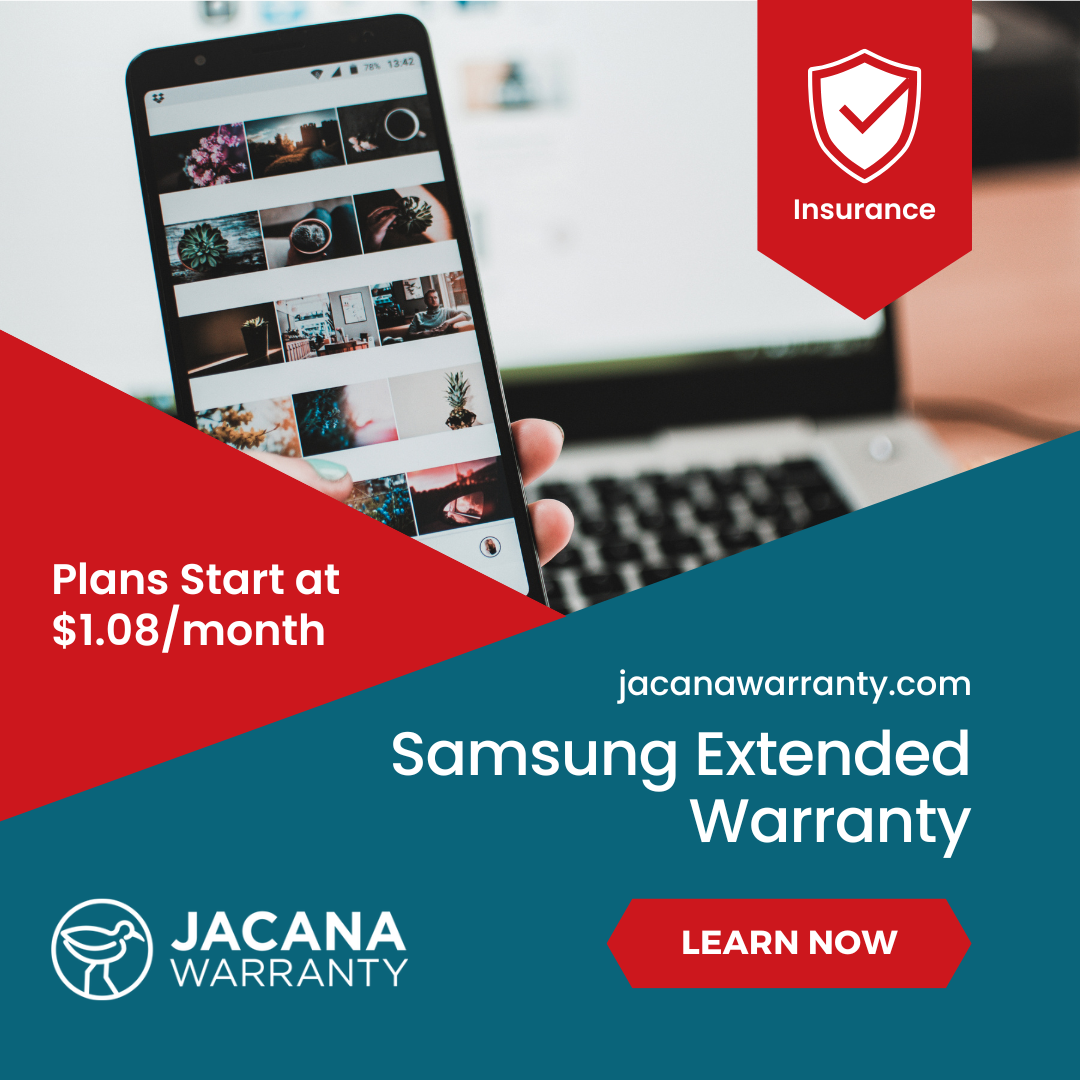 The devices we love aren't cheap. Protect them with Jacana Warranty.
We'll cover your favorite home electronic devices and provide 24/7 live support, all for less than $1 per day.
Purchasing Third-Party Extended Warranty
If you opt for a third-party extended warranty, visit their official website or contact their customer support to initiate the purchasing process. Provide the necessary information about your Samsung phone, including the model, serial number, and purchase date. The third-party provider will guide you through the steps to complete the purchase securely.
Registering Your Extended Warranty
After purchasing either Samsung's extended warranty or a third-party plan, it is essential to register your warranty to activate the coverage. Follow the instructions provided by the warranty provider to register your Samsung phone. Typically, you will need to provide information such as your contact details, phone's serial number, and proof of purchase.
Understanding Coverage Details:
Once your extended warranty is activated, take the time to thoroughly understand the coverage details. Read the terms and conditions of the warranty to know what is covered and what is not. Familiarize yourself with the process of filing claims, the duration of coverage, any deductibles, and the authorized service centers or repair facilities where you can seek assistance.
Filing a Warranty Claim
In case your Samsung phone experiences a covered issue, it is crucial to know how to file a warranty claim. Contact the warranty provider and provide the necessary details about the problem you are facing. They will guide you through the process, which may involve sending your phone for repair, visiting an authorized service center, or arranging a replacement device.
Maintaining Your Samsung Phone
To ensure that your Samsung phone remains eligible for warranty coverage, it is important to maintain it properly. Follow the manufacturer's guidelines for usage, avoid unauthorized repairs or modifications, and protect your device from damage. Failure to comply with these guidelines may result in voiding your warranty.
Conclusion
Extending the warranty on your Samsung phone can provide peace of mind and safeguard your investment. By following the steps outlined in this comprehensive guide, you can explore various extended warranty options, select the most suitable plan, and ensure that your device remains protected against unforeseen issues. Remember to thoroughly understand the coverage, register your warranty, and follow the appropriate procedures for filing a claim. With an extended warranty in place, you can enjoy your Samsung phone with greater confidence and protection.