As a gamer, investing in a gaming console is a significant purchase. Whether you're a casual or serious gamer, you want to ensure that your console stays in good condition and continues to function properly. Unfortunately, consoles can experience wear and tear over time, as well as the risk of accidental damage. That's why having a comprehensive gaming console warranty is essential.
Understanding the Risks and Common Problems Associated with Gaming Consoles
Gaming consoles are complex pieces of technology that can experience a wide range of issues over time. Some common problems that gamers face include:
Overheating: Gaming consoles generate a lot of heat, and if they're not properly ventilated, they can overheat. Overheating can cause damage to the console's hardware, which can result in the console not functioning properly.
Hardware failure: Components within gaming consoles can fail over time, resulting in the console not functioning as it should. This can include issues with the console's hard drive, fan, or other components.
Software malfunctions: Gaming consoles are essentially computers, and like computers, they can experience software malfunctions. This can include issues with the console's operating system or problems with individual games.
Accidental damage: Whether it's dropping the console or spilling a drink on it, accidents can happen. Accidental damage can cause significant harm to the console, resulting in expensive repairs or even the need to replace the console entirely.
Benefits of a Comprehensive Gaming Console Warranty
A comprehensive gaming console warranty can provide gamers with peace of mind, knowing that they're protected against potential issues that can arise. Some of the benefits of a warranty include:
Protection against accidental damage: Many gaming console warranties cover accidental damage, which can be a huge relief for gamers who are worried about dropping or damaging their console.
Protection against malfunction and defects: Warranties can cover the cost of repairing or replacing the console if it malfunctions or has a defect.
Length of coverage: The length of coverage for warranties can vary, but most cover the console for at least one year. This means that if an issue arises within that time frame, gamers can have it fixed without having to pay out of pocket.
Repair or replacement options: Some warranties offer repair options, while others offer a replacement if the console can't be fixed.
Customer support: Many warranties also offer access to customer support, which can help troubleshoot issues with the console.
How Extended Warranties Work
In addition to the standard warranties that come with your gaming console, many retailers offer extended warranties. These warranties can provide added coverage beyond the manufacturer's warranty, often for an additional fee.
Extended warranties can vary in terms of coverage, length, and cost, but they generally offer the same types of benefits as standard warranties. The main difference is that extended warranties can provide coverage beyond the initial warranty period.
However, it's important to carefully consider the terms and conditions of an extended warranty before purchasing. Some extended warranties may have exclusions or limitations that could impact coverage, and the overall cost of an extended warranty may not be worth it for some gamers.
Tips for Selecting the Right Warranty for Your Gaming Console
When selecting a warranty for your gaming console, there are a few things to consider:
Compare different options: It's a good idea to compare warranties from different providers to find the one that offers the best coverage for your needs.
Read the fine print: Be sure to carefully read the terms and conditions of the warranty to ensure that you understand what's covered and what's not.
Consider the cost: While warranties can provide added protection, they can come at a cost. Consider the cost of the warranty compared to the overall cost of the console, as well as the potential cost of repairs or replacements if something goes wrong.
Look for reputable providers: When selecting a warranty provider, look for a reputable company with a track record of providing quality customer service.
Consider your gaming habits: If you're a serious gamer who spends a lot of time playing, you may want to consider a longer warranty period or a warranty that covers wear and tear.
Conclusion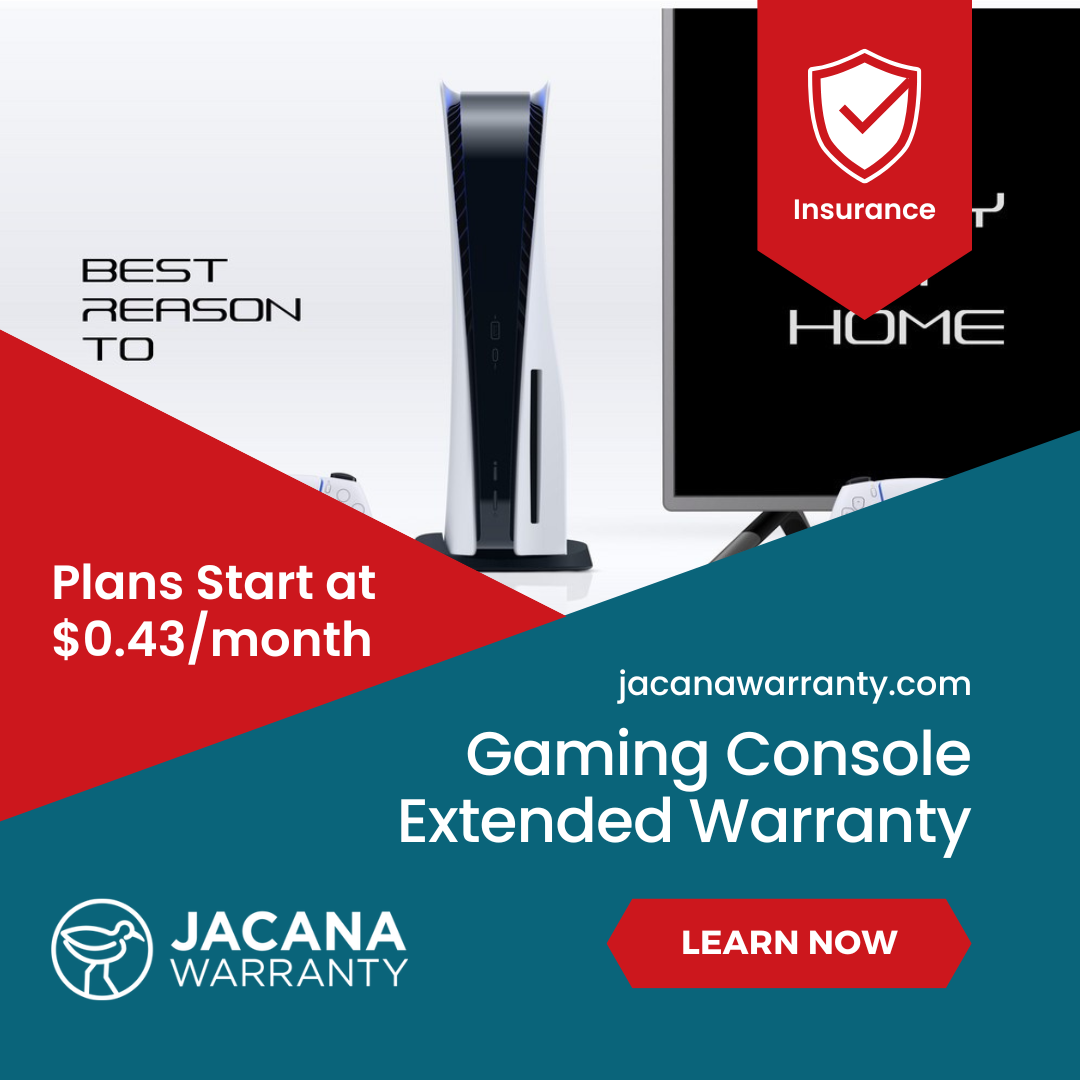 The devices we love aren't cheap. Protect them with Jacana Warranty.
We'll cover your favorite home electronic devices and provide 24/7 live support, all for less than $1 per day.
In conclusion, investing in a comprehensive gaming console warranty is essential for any gamer who wants to protect their investment. With a warranty in place, gamers can have peace of mind knowing that they're covered against potential issues that can arise over time. When selecting a warranty, it's important to compare options, read the fine print, and consider the cost and length of coverage. With the right warranty in place, gamers can focus on enjoying their favourite games without worrying about the potential cost of repairs or replacements.